Home of Brazilian Jiu Jitsu in Hampstead
Hampstead BJJ is the home of Brazilian Jiu-Jitsu and Muay Thai/Kickboxing in Hampstead, North London. Whether you are a complete beginner looking to try out Brazilian Jiu-Jitsu or you are a seasoned fighter, Hampstead BJJ is the place to train. We have brand new facilities which have recently been refurbished and some of the best instructors in the UK including a head coach who has won international competition titles. At Hampstead BJJ you will discover a warm, welcoming atmosphere and a willingness to help you learn and develop to become the best you can be.
Choosing a team is no easy task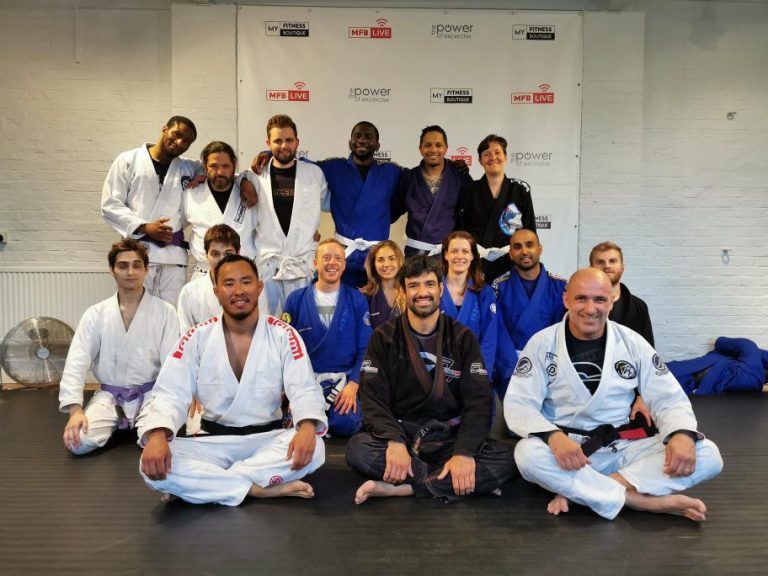 We started in 2021 working from newly refurbished facilities and right now our focus is on Brazilian Jiu-Jitsu and Kickboxing (Muay Thai) because these are the core disciplines of Mixed Martial Arts (MMA). In time we will be adding other disciplines to add nuance to our fighters' skill sets.
Choosing a gym is no easy task. With something as intense as BJJ you need to make sure the gym and instructions are right for you. Take a look around this site then come and talk to us or call 020 3503 0038. Once you have had a chat, book in for a free lesson.
Brazilian Jiu-Jitsu, or BJJ, emphasises non-lethal techniques and positional dominance to gain control over an adversary without the use of any punching or kicking. The focus is on grappling, wrestling, holds and some throws.
Muay Thai (translates to "Thai Boxing") is the national sport of Thailand. It is a martial art with roots originating from military use. Muay Thai is known as the "Art of 8 limbs" because it uses multiple points of contact – more than boxing or karate. Muay Thai is the most effective of the striking forms of martial art.
An active competitor and a veteran of numerous BJJ competitions across the globe, Mike is an IBJJF (International Brazilian Jiu Jitsu Federation) certified 1st Degree black belt, who has been training and teaching full-time for the better part of a decade in order to be able to compete with some of the best in the world.
It's a tough decision, deciding on which team to join, we realise that, so call us on 020 3503 0038 and talk to Mike, then come and try a free class and see how you get on.